CASA COLIBRIS! EXQUISITE ESTATE - TURNKEY RESIDENCE IN CONSEJO SHORES!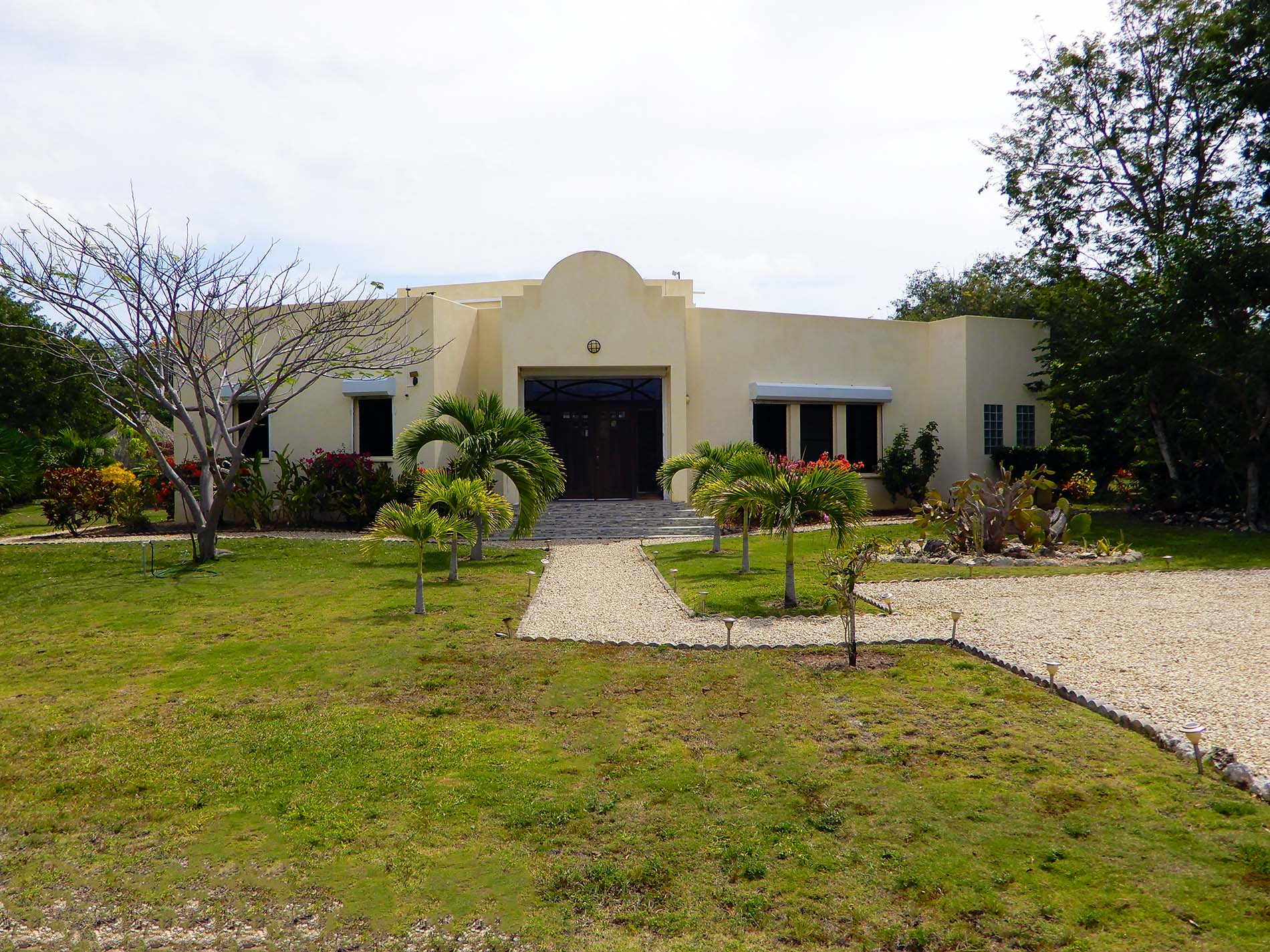 PROPERTY DESCRIPTION
This well designed and quality built luxury 2 bedroom 2 bathroom concrete house is located 7 miles from Corozal Town in a well-known and sought after expat community Consejo Shores walking distance from the sea. The property features beautiful views and cool sea breezes.
Approximately 1360 sq. ft. under roof plus patio and rooftop terrace this house was designed by home owner and built in 2013 to all American Standards. The house has a fully reinforced foundation with 23 pillars and reinforced concrete slab and flat roof with 23' raised cupola section, the foundation is firmly anchored on the rock. This unique residence features 2 bedrooms equipped with AC split systems, oriental inspired 2 bathrooms with master en-suite and second bath equipped with unique Asian Zen style bathtub. Both bedrooms feature mahogany wardrobes, guest bedroom offers working desk, bedrooms conveniently located at opposite ends of the building, connected with a stylish uniquely shaped hallway. The house boasts open concept living and dining area, full kitchen featuring designer mahogany cabinets and solid green marble countertops, high-end stainless appliances and screened patio with garden access. Exotic Belizean Hardwood used throughout. House features 22 tropical style windows and 2 doors with sturdy high quality Hurricane shutters.
The house comes fully furnished: artworks, furniture, appliances and cookware are included, except for some personal items, we will gladly present a lists of included articles to a qualified buyer. The properties offers separate laundry room complete with high-end steam washer and dryer combo and on-demand water heater. There is a large thatched storage shed in the yard for garden tools and well water equipment - 220V electrical pump and pressurised tank for irrigation system consisting of 24 irrigation pipes throughout the property. Palapa covered structure next to the shed features outdoor shower and can be used later to install hot tub or small swimming pool.
A large rooftop terrace offers beautiful views ideal for relaxing and enjoying the sea breezes and amazingly landscaped gardens. The fresh breeze and the possibilities of adding recreational structures (bar, gazebo, jacuzzi etc.) make it a space of added value for the buyer.
The garden features variety of palms and trees including bananas, mangos, limes and coconuts are growing on the property. The house is in move-in condition and there is no comparable property at this price in this area! Huge backyard leaves plenty of room for large swimming pool!
There is a large driveway offering enough space to build a stand-alone garage or a carport.
The property is just minutes from the sea quietly located at the Pelican Pathway enclave of expat residences occupied year-round.
AMENITIES:
Parcel 692, Registration Section Consejo, Block 1
Water: rain collection with cistern capacity of 18,900 Gallons and well water for irrigation
Electricity: Belize Electricity Limited
Internet - high speed various options
Septic system and soakaway
The property is ideally situated in the fast developing town and growing expat community of Corozal District. From Corozal Town you are a 5 minute drive to Corozal airstrip by car, with San Pedro, Ambergris Caye 20 minutes away by plane or two hours by water taxi. The fantastic Chetumal US style Shopping Malls and the new Chetumal International Airport are conveniently 40 minutes by car across the Belize/Mexico border.
Contact us about renting this property.
Back
GALLERY