CANAL FRONT 0.5 ACRE WITH 2 BEDROOM HOUSE ON BAYSHORE DRIVE!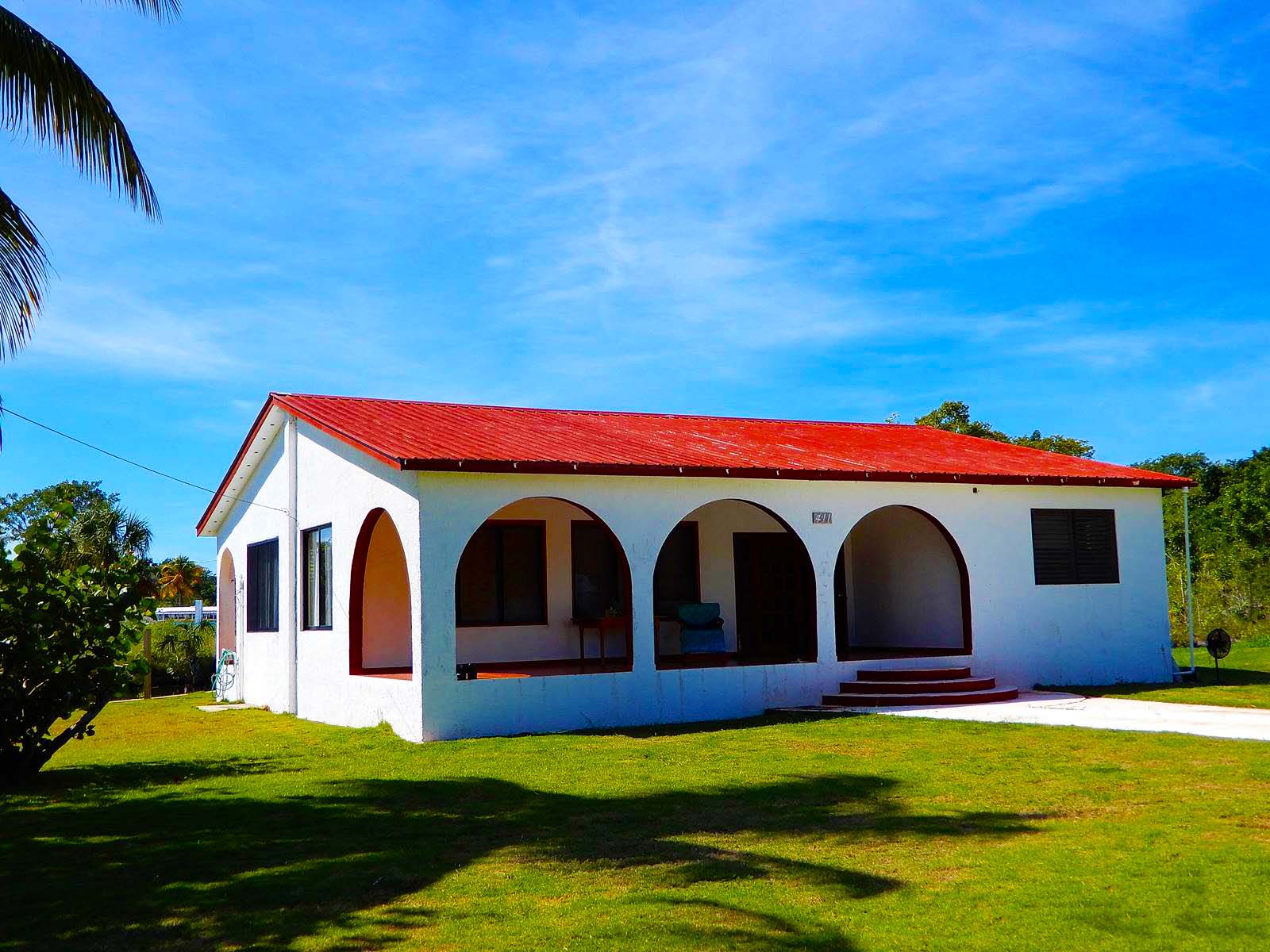 PROPERTY DESCRIPTION
This spacious bungalow situated on 0.5 acre canal front in a popular area of Bayshore Drive on the southern outskirts of Corozal Town, this property is ideally located in the upscale area with a minute walk to the Sea. The neighbourhood features high end homes, poplar hotels and restaurants making it the perfect spot to set up vacation rentals or B&B, and double lot provides enough space to expand and build more amenities like apartments, swimming pool or small restaurant. 150 feet of canal front provide sufficient space to build a large dock.
The house features 2 bedrooms, bathroom and open concept kitchen, dining and living area totalling 1,096 square feet plus verandas at the front measuring 280 square feet and at the back balcony measuring approximately 224 square feet; as a bonus there is efficiently designed loft above bathroom, perfect sleeping/playing area for kids! The kitchen cabinet is built from mahogany wood. All doors are solid mahogany doors. The roof is vaulted and built of reinforced concrete is covered with galvanised steel. The floor is poured reinforced concrete completely covered with ceramic tiles. A separate concrete shed measuring approximately 290 square feet is used for storage.
It is a perfect vacation home for a family looking for a something quaint and practical; excellent vacation rental or start-up for B&B. The double lot is fenced and gated with access to a canal which runs entirely along the width of the rear of the property and opens to the Corozal Bay for fishing and boating.
Registration Section: San Andres/Ranchito; Block 1, Parcels 410 and 411
Measuring 150' Canal Front x 150' in depth combined, with area of 2,442.625 and 2,493.625 Square Meters
Owner Financing is available with flexible terms!
AMENITIES:
Water: Municipal water.
Electricity: Belize Electricity Limited.
Garbage collection.
Broadband Internet - multiple options.
Property Taxes - $170 USD annualy
The property is ideally situated in the fast developing town and growing expat community of Corozal District. From Corozal Town you are a 5 minute drive to Corozal airstrip by car, with San Pedro, Ambergris Caye 20 minutes away by plane or two hours by water taxi. The fantastic Chetumal US style Shopping Malls and the new Chetumal International Airport are conveniently 40 minutes by car across the Belize/Mexico border.

GALLERY