LAS PALMAS HOTEL IN THE HEART OF COROZAL TOWN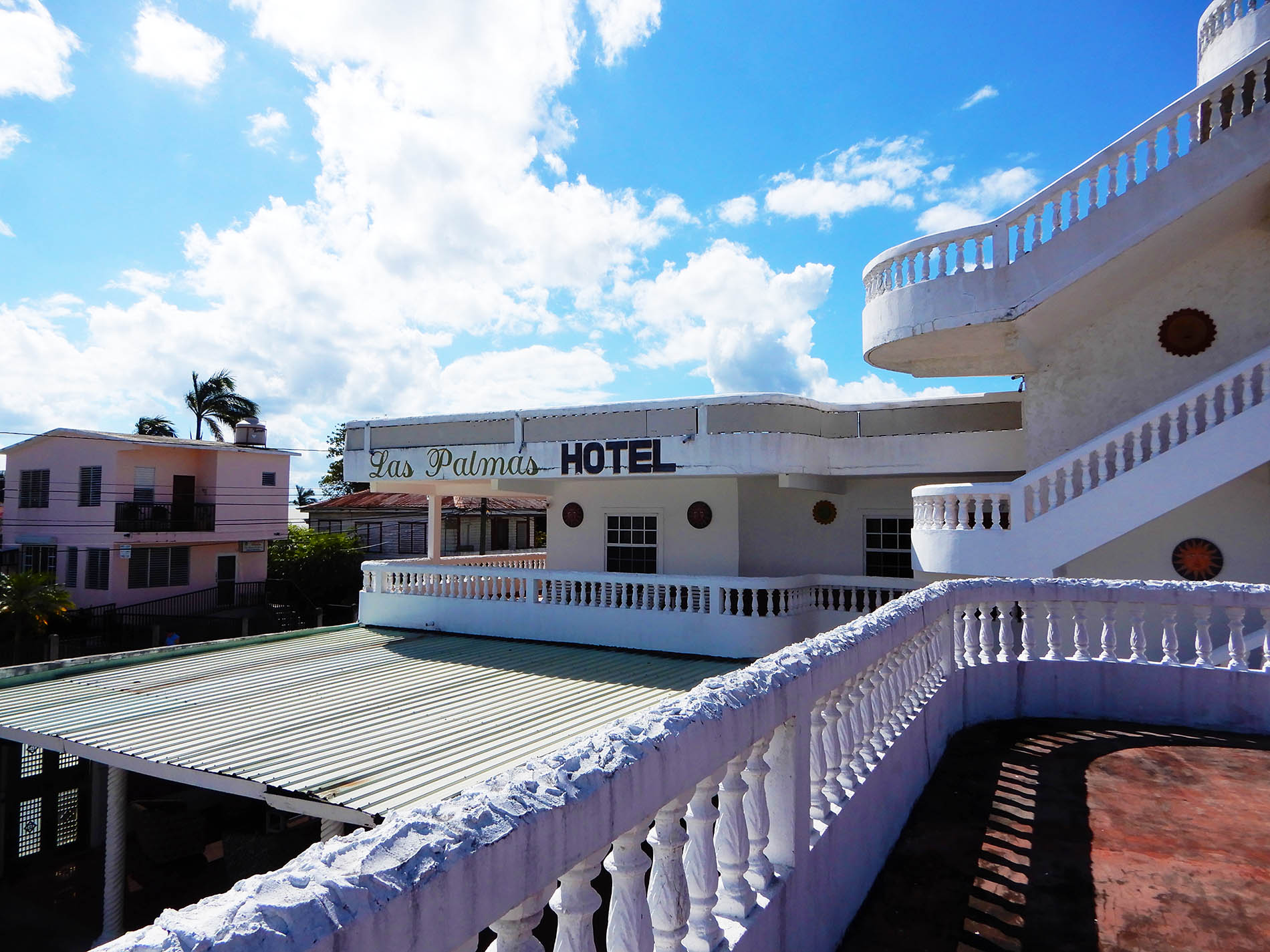 PROPERTY DESCRIPTION
Great deal for someone who wants to run a well established highly rated and budget minded hospitality business in Corozal Belize. Building this kind of hotel from scratch will be massive and expensive enterprise, taking over Las Palmas Hotel with all its licensing, ratings, reputation and infrastructure can save one money, time and effort to be able to jump start the business right away. This family run hotel has proven reputation for family getaways, short tourist stays, corporate meetings or as a place to unwind, relax and explore Corozal. The property occupies 3 town lots situated on a total of 1,743.92 square yards (0.36 acre) with beautiful views of Corozal Bay and pleasant cool sea breezes.
Property features fully fenced four-storey reinforced concrete hotel building with separate laundry house and electrical facility; total hotel's enclosed area is approximately 11,000 square feet plus large wrap-around balconies and patios/terraces. Hotel was constructed and finished in 2006 to all North American Standards.
The ground floor features reception, parking lot, office space, manager's unit, restaurant area with two bathrooms, kitchen and seven guest rooms with individual bathrooms and corridor spaces.
The first floor offers nine guest rooms with individual bathrooms and corridor spaces.
The second of the said hotel building offers eight guest rooms with individual bathrooms and corridor spaces.
The third floor features owner's quarters accessible from ground floor.
CONSTRUCTION SPECIFICS:
Foundation: Reinforced concrete construction.
Floors: Concrete floor slab/ceramic tiles cast at some 14 inches above natural grade.
External Walls: Masonry concrete blocks.
Internal Partition Walls: Masonry blocks.
Columns & Beams: The structure is framed with reinforced concrete columns and beams.
Windows: French windows.
Doors: Mahogany solid wood.
Roof: Flat reinforced concrete roof with cement banister handrails.
Staircase 1: Access from ground floor to third floor is via one external concrete staircase.
Staircase 2: Access from ground floor to third floor is via one internal concrete staircase.
Air Conditioning: All rooms on all four flats are fitted with split unit type air conditioning units.
The building incorporates various Spanish/Maexican/Maditerranian architectural elements making this attractive building a true landmark of Corozal.
The hotel is connected to power with Belize Electricity Limited and offers choices of high speed internet including fibre optics.
There is a few possibilities to add new amenities given spacious well built patios one on the second floor and another one roof top offering in total over 8,500 sq. feet - e.g. open air restaurant or swimming pool.
The property is located in the heart of Corozal Town on 5th Avenue walking distance from everything in town it offers opportunity to pick up existing business or/and add on new amenities. The hotel has been functioning for many years and has exceptional rating from major travel/booking sites like Booking,TripAdvisor and Expedia. The buyer can pick up the profitable business and continue on introducing their plans and ideas.
AMENITIES: check the Hotel's website


The property is ideally situated in the fast developing town and growing expat community of Corozal District. From Corozal Town you are a 15 minute drive to Corozal airstrip by car, with San Pedro, Ambergris Caye 20 minutes away by plane or two hours by water taxi. The fantastic Chetumal US style Shopping Malls and the new Chetumal International Airport are conveniently 20-30 minutes by car across the Belize/Mexico border.
Contact us about price and terms of purchasing this property.
Back
GALLERY