HOUSE AND LOT - SOUTH END ON FERRY ROAD, COROZAL TOWN. MOVE IN!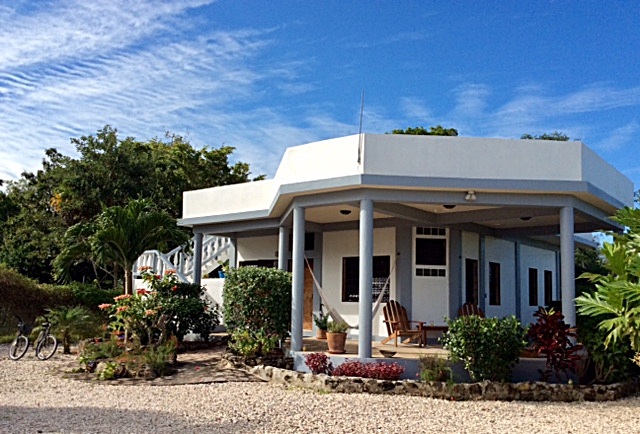 PROPERTY DESCRIPTION
The house is approximately 1,200 sq.ft. of space with a 375 sq.ft. Vernda and an additional 1,400 sq.ft. For future expansion of a penthouse or extra room on the roof terrace. Custom built kitchen of solid mahogany Belizean hardwood. Main entrance solid door is hand carved. All interior finishes form Belizean hardwoods. The floor through-out is tiled.
Situated on the South End of Corozal Town on Ferry Road, this property has full access to the Corozal Bay. It is a quiet area of Corozal Town; 1/3 of the lot is fully fenced by metal/chain link combination fence with a hand crafted metal sliding gate. The entrance is well appointed for parking. Mature graceful trees dot the front and back yards to this beautiful property. There is lots of extra space for a second home or development. This allows for a caretakers unit, rental or guest house that can easily feel separate and private with its own access and parking if desired.
The layout of the building provides for great cross ventilation and optimizes the Caribbean Sea breezes. There are hook-ups for air condition units in the bedrooms and great room. The First Floor opens on to a large porch that faces the sea and overlooks the beautifully landscaped yard.
The interior layout has 2 bedroom downstairs, 2 bathrooms, a kitchen, living room and an access stairway to the second floor deck. The first floor layout is approximately 1,200 Sq. Ft. with an additional 375 Sq. Ft of covered veranda and approximately 1,200 Sq. Ft. on the second floor roof terrace. This upper deck would be ideal for a penthouse or second floor addition. Plenty of storage area is provided in the first floor layout and is accessible from the outside. External storage room is 120 Sq. Ft. The porch overlooks the Caribbean Sea. There are many windows throughout with artistic burglar bars and doors.
The roof terrace allows for enjoying evening sea breezes and "cooling off" with exotic views of the savannah. All windows are louvered glass. Doors are solid mahogany.
Elevated from street level and set away from the street, the house is built on pristine Maya soil, allowing generous room to expand or build more units within the ample grounds.
Registration Section: Carolina/Calcutta Block 1. Area: 1,839.789 sq.m. Connected to City Water and Belize Electricity Limited.
Click here to download Property Infosheet Brochure
Back
GALLERY